Source of article The Jury Room - Keene Trial Consulting.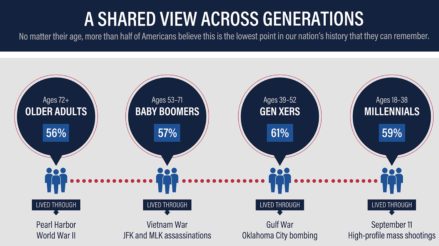 If you knew this already, congratulations. Your ability to perceive reality is intact. Your wisdom has been affirmed by the data. We wanted you to see some of the results from the new Stress in America survey published recently by the American Psychological Association.
What is particularly of interest is that this annual survey is usually released in February of each year. When the APA saw how the results of the survey mirrored our current sociopolitical climate in the US—they released the study results early.
Here are just a few of the media reactions to the report (which shows American stress levels rising for the first time in 10 years).
From a Psychology Today blog—The Athlete's Way:
The most alarming aspect of the new 2017 report is that more survey respondents are feeling the impact of stress in their sleep patterns and day-to-day lives compared to last year. For example, almost half of all Americans (45 percent) report lying awake at night and experiencing regular sleeplessness. The latest survey also reports that 75 percent of Americans experienced at least one symptom of acute stress in the month prior to the survey. More specifically, about one-third of adults said they had experienced feeling nervous or anxious (36 percent), irritability or anger (35 percent), and fatigue (34 percent) as a result of their stress levels.
From an American Psychological Association press release on the report:
When asked to think about the nation this year, nearly six in 10 adults (59 percent) report that the current social divisiveness causes them stress. A majority of adults from both political parties say the future of the nation is a source of stress, though the number is significantly higher for Democrats (73 percent) than for Republicans (56 percent) and independents (59 percent).
Adults also indicated that they feel conflicted between their desire to stay informed about the news and their view of the media as a source of stress. While most adults (95 percent) say they follow the news regularly, 56 percent say that doing so causes them stress, and 72 percent believe the media blows things out of proportion.
From Bloomberg:
The APA survey did find, however, that not everyone is feeling the same degree of anxiety. Women normally report higher levels of stress than men, though worries among both genders tend to rise or fall in tandem. This year, however, they diverged: On a 10-point scale, women reported a slight increase in stress, rising from an average 5.0 in 2016 to 5.1 in 2017, while the level for men dropped, from an average 4.6 to 4.4.
Racial divides also exist in reported stress. While the levels among blacks and Hispanics were lower in 2016 than the year before, they rose for both groups in 2017, to 5.2 for Hispanic adults and 5.0 for black adults. Among whites, meanwhile, the average remained the same, at 4.7. [No hypotheses are offered for this discrepancy by race.]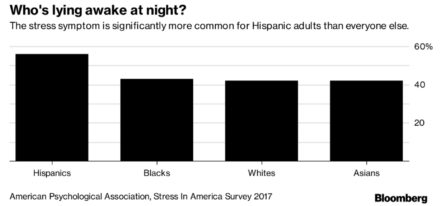 And from the actual report itself—a positive sign:
Half of those surveyed (51 percent) express that the state of our nation has compelled them to volunteer or otherwise support causes they value, and 59 percent have taken some form of action in the past year to address the issues of concern to them, including signing a petition (28 percent) and boycotting a company or product due to its social or political views or actions (15 percent).
Despite the divisiveness in many areas, most Americans (87 percent) can agree on at least one thing: a desire for people to take a deep breath and calm down.
The Huffington Post goes further than the disturbing excerpts above and gives actual information on ways to cope with rising stress.
Experts say the survey highlights how the focus on negative news and political turmoil is a major driver of daily stress.
"I think people intuitively understand that if they're having financial troubles or problems with work, that can be a source of stress," Arthur C. Evans Jr., the APA's chief executive officer, told HuffPost. "People may not be as conscious about how the current environment is having an effect on how they feel and their health status."
So how do you zap that stress before it becomes a major issue? [See the article at the Huffington Post for those coping strategies.]
From a litigation advocacy standpoint, you need to appreciate the level of stress that Americans are experiencing [as well as the reality we are experiencing it differently depending on demographic factors] and try to sort out how that higher stress level interacts (if it does—and it probably does!) with your case facts. Keep in mind that everyone wants lower stress (lower levels of fear, anxiety, uncertainty, vulnerability).
Consider how you can frame your case narrative so that the response you want would be seen as a means of self-care or stress reduction (i.e., with all the constant strain of news alerts and media preoccupation with the strain on all of us—it's a relief to see this decision as one that will make things better and not more chaotic).
American Psychological Association (2017).Stress in America: The State of Our Nation. Stress in America Survey. https://www.apa.org/news/press/releases/stress/2017/state-nation.pdf