Source of article DOAR Litigation Consulting.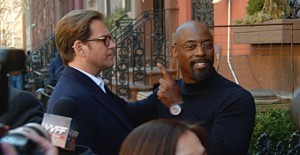 In the nineteenth edition of his weekly column in Law360, DOAR's real-life New York City Jury Consultant and Psychologist reviews the fictional NYC Jury Consultant/Psychologist on the television series "Bull," focusing on what litigation is really like in the trenches.
[Spoiler Alert]…
---
The great Bull Paradox is that each week there is a lot of hype made of Bull's supernatural social science prowess and jury consulting skills, but he has yet to show us that he can use these genius skills, rather than his jury tampering or crime scene investigation skills, to win a case. In a similar paradox, suppose, for example, someone based a column on the idea that it would be about jury consulting on a television show, but it was really just snotty riffing on barely related topics. Can you imagine?
The Case of the Celebrity Attorney Defendant
This week, a famous trial attorney, played with great flourish and humor by Isaiah Washington, is accused of murder and hires Bull, but thwarts Bull at every turn. Marissa from Bull's team designs some sort of narcissism scale and rates jurors on it, but the attorney disregards Bull's attempt to assist with jury selection and later cross-examines a witness despite Bull's admonition against it. Basically, Bull is unable to do anything but watch for much of the trial. Bull spends the whole episode seething, which makes this one of the more entertaining episodes.
Meanwhile, the attorney attempts to use the media outside of the courtroom to influence the seated jurors. He holds a rally and makes a fiery speech. The prosecution hits back by staging a rally in front of the courthouse where the jurors parade by single file, for some reason, as they leave court.
So what does Bull do when he is stopped from applying his skills? In previous shows, when thwarted, he has resorted to all manner of illegal activity, such as creating fake tornado warnings, having witnesses talk to seated jurors, and surveilling jurors. This time, he has his team do direct crime investigation, which pays off when they examine the deceased's fingerprints (common jury consulting technique).
With a witness on the stand mid-testimony, Bull tells the court he has brand new evidence to present in open court. In the usual fashion on this show, the judge makes a big showing of being tough, but then allows egregious breaches in the rules of evidence. Here, the judge allows this new evidence that neither the judge nor opposing counsel has seen, but it is okay because she also makes a scary face and warns Bull to be careful.
The new evidence is photos of various ID cards the deceased had used in the past, showing that she had many aliases and was fooling the accused murderer all along. Relevance!
Then, in typical Bull fashion, right after the verdict comes in (Bull wins again), Bull figures out that some other witness was really the deceased's brother and was also the killer, and has him arrested. Oh, OK. That's good too. At this point, the show is even defying the laws of nonsense.
Is That What Jury Consulting is Like?
It is a widely agreed upon practice that when there is a high-profile crime or high-profile defendant, as in this case, a request would be made to use a written supplemental jury questionnaire that would be given to the potential jurors in advance. This questionnaire would, at a minimum, have questions about whether the juror has strong positive or negative feelings about the celebrity or the crime. This is then used to remove large swaths of potential jurors for cause. Many judges consider this an efficient time-saving method in high-profile cases. It was strangely absent here.
Otherwise, all jury consulting advice was rejected by the defendant, but he won anyway.
Nineteen episodes into season one of the show, we are still waiting for premise of the show to be realized. But did you notice how close this column stayed to the appropriate topic this week? Everyone is a winner!
The post Talking Bull, Episode Nineteen, A Real Jury Consultant Watches a Fictional One appeared first on DOAR.