Source of article The Jury Room - Keene Trial Consulting.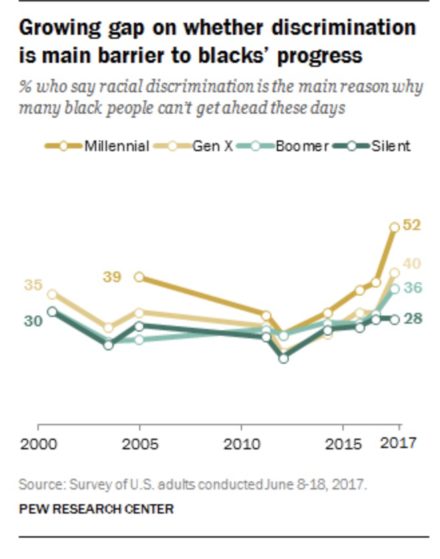 Pew Research Center continually puts out well-researched and well-written reports on data generated by their surveys of the American public. They have a newer report out on how generational status is related to views of racial discrimination. Pew comments on the report this way:
"Generational differences have long been a factor in U.S. politics. These divisions are now as wide as they have been in decades, with the potential to shape politics well into the future.
From immigration and race to foreign policy and the scope of government, two younger generations, Millennials and Gen Xers, stand apart from the two older cohorts, Baby Boomers and Silents. And on many issues, Millennials continue to have a distinct – and increasingly liberal – outlook."
Reading these reports regularly is a good way to maintain awareness of shifting attitudes of your potential jurors. Pew thinks that, if Millennials and GenXers vote, they will influence politics "well into the future". For some of us, this report will be reassuring and for others it will not.
The report itself is full of information on the many issues American generations disagree on with younger Americans more supportive of immigration, more liberal, less religiously affiliated, more likely to be Democrat by self-report, more likely to prefer "bigger" government, more supportive of universal healthcare, and more supportive of social services for the needy. Yet, they are no more likely to be trusting of the government than other generations.
If you choose juries, appear in court for trials, or need to keep up on changing norms—this report is a must-read piece.
The Generation Gap in American Politics: Wide and growing divides in views of racial discrimination. Pew Research. March 1, 2018. http://www.people-press.org/2018/03/01/the-generation-gap-in-american-politics/
Image from report itself